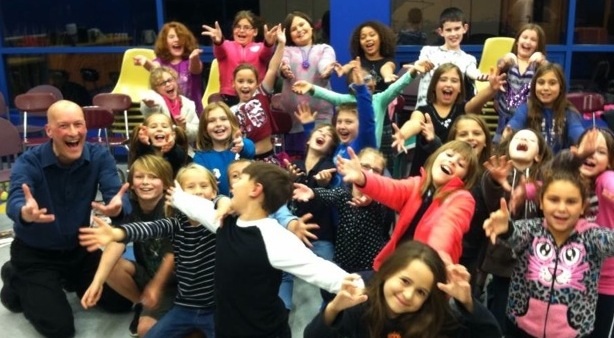 School Shows/ Workshops / Staff Stress Relief
2022-2023 School Year - Live & Online School Program Options!
Flexibility is key. I can do any of my programs:
Live-In-Person
Virtual Live Stream
Virtual Recorded Video
I am open to other options as they become available.
Let's chat today!
Robert Rivest offers:
School Shows & School Assemblies
Classroom Workshops & Residencies
Autism & Social Communication Disorder Programs
Stress Relief Programs for Teachers and Staff
School Shows & School Assemblies
Literacy Alive - Let's Celebrate Reading! is a quick moving fun-filled enrichment program that gets audiences of all ages excited about reading. Robert Rivest reveals the "hidden treasures" of reading and comically illustrates and the joys of reading everyday. More
Healthy Choices - Healthy Lives is a high-energy comedy program in which health and humor go hand in hand. Robert Rivest's humorous insights connect deeply with children, teens, and adults moving them to make mindful choices about food, exercise, entertainment and safety. More
Happy Halloween Tricks and Treats: In this fun, interactive program, Comic Mime Robert Rivest will take us through a series of spooky yet silly Halloween stories. We will also learn how to do some mime tricks and treat our friends to funny mime illusions and hilarious Halloween characters. Come in costume, Robert will use his mastery of mime and movement to help us move and act like our costume characters. Also bring some ideas and suggestions, as we will create our own spooky story together, on the spot!
Mindfulness and Stress Relief: Robert Rivest's "Mindfulness and Stress Relief" school programs help teach the basics of mindfulness in a fun, entertaining way. In this program, students and teachers learn mindfulness exercises and stress relief techniques that will help them breathe, relax, focus, concentrate, act, react, and interact, mindfully. Robert is a great presenter, he shares simple stories and humorous tales that bring mindfulness principles to life. More
Learn, Laugh, and Let Go: An Interactive Stress Relief Show! Robert Rivest takes a humorous look at modern day stress and what we can do about it. He shares easy to follow stress relief strategies that allow everyone to get back to work, school, or home, feeling calm and refreshed. More
Science in Motion! is a mesmerizing blend of comedy and science that enthralls both children and adults. Robert Rivest, comically explores how scientists and artists see the world around us. More
Comic Mime Theater Highlights the best of Robert Rivest's 20 year career as a master mime performer, comic actor and improv artist. Through humorous mime stories, spoken word physical comedy and a zany cast of characters, Robert Rivest transforms an empty stage into pure hilarity! More
All Together Now: Robert Rivest is a Comic Mime uplifting people of all ages and backgrounds. He is a funny man who sees the world in a very funny way. He is known as the 'human cartoon' because of his highly expressive face and flexible body. Using mime, comedy, and interactive stories, Robert brings original All Together Now Themed stories to life before your eyes! He combines classic mime artistry with hilarious character voices and humorous insights into everyday life.
Find your Own Voice: Comic Mime Robert Rivest leads audiences of all ages in humorous adventures in the Find Your Own Voice theme. Robert teaches everyone how the can express themselves in movement, dance, facial expression, body language and in comic Mime stories. A fun show by itself or part of a specific theme within the Summer Reading 2023 Themes. Everyone will learn cool mime illusions! In several audience participation opportunities, we will have fun improvising your story ideas and play with humous character voices. Then, we will act out the stories we create together on the spot!
Summer Fun! This is a pure celebration of everything that we love about summer. Comic mime Robert Rivest performs his favorite stories about summer and invites audience members to join in. Stories about the sun, swimming, camping, travel, friendship, ice cream, late nights, lightening bugs and more! This fun family show is full of audience participation! In addition to Robert's humorous and inspirational mime theater stories, everyone will learn amazing mime illusions and how to create their own mime story. Together, we will act out exciting characters and stories highlighting summer fun!
Classroom Workshops & Residencies
Classroom Workshops & Residencies Robert Rivest uses mime, movement, laughter and mindful exercises to help students explore class material kinetically. He motivates students and staff alike to free up their creativity and to see their school work in a new light. Robert inspires them to go deeper into the subject matter while learning to relax and enjoy the process. More
Autism & Social Communication Disorder Programs
Autism & Social Communication Disorder Programs Robert Rivest has created a series of exercises and games that help students read facial expression and body language while developing a repertoire of responses. Robert offers students the opportunity to observe, discuss, model and practice interpreting and responding to non-verbal communication in a safe, comfortable environment. More
Stress Relief Programs for Teachers and Staff:
Teacher Worhsops & Staff Stress Relief Robert Rivest now offers Stress Relief Workshops for Teachers! His newest staff development program for teachers is part comic relief and part stress relief tips from mindfulness meditation, tai-chi and laughter yoga. The laughter team building exercises are a lot of fun and the take away stress relief tips are very effective. It can be a great stress reliever for the whole population or a special staff workshop/inservice. More
Robert is wonderful at selecting the appropriate material for each audience, ensuring an enjoyable experience for everyone involved.
*All Robert Rivest School Programs can be presented Online!
Contact Robert today to book:
Online School Programs
Online Teacher Stress Relief Workshops
Online Laughter Release Sessions
Robert Rivest is also currently booking future programs, when we can all get together again. :)
Contact him today!
Phone: 413-519-2256
Email: ROBERT RIVEST
Library Programs
Teen Programs
Staff Development