Robert Rivest Library Programs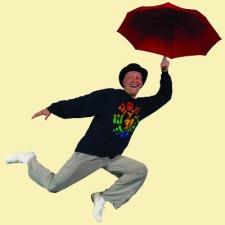 Year-round interactive Library programs for children, teens and adults.
*All Robert Rivest Library Programs can be presented Online!
Contact Robert today to book:
Online Family Library Programs
Online Library Staff Stress Relief Workshops
Online Zoom Laughter Release Sessions
Robert Rivest is also currently booking future programs, when we can all get together again. :)
Stress Relief, Team Building and Laughter Games for Librarians and Library Staff Robert Rivest offers creative stress relief workshops, in-services and staff development training for librarians and staff! His most popular staff development program for libraries is part comic relief and part stress relief tips from mindfulness meditation, tai-chi and laughter yoga. The laughter and improv team building exercises are tons of fun! The take away stress relief tips are very effective for work in the library and every day life. It can be a great stress reliever for the whole population, a library conference keynote, worksop, breakout session or a special staff workshop/in-service/training.
2019 Summer Reading Theme! Space "A Universe of Stories" First Man on the Moon
Space: First Mime on the Moon! Robert Rivest is a funny guy, he even makes space funny. Using mime, comedy, and interactive stories, Robert explores a universe of humorous space stories. He combines classic mime artistry with hilarious highlights of space travel and the Apollo Moon Landing. With plenty of audience participation, Robert brings his sensational space stories to life before your eyes! In addition to his 'Universe of Stories,' everyone will learn cool mime illusions. Together we will act out how to be a test pilot, go through astronaut training, take a rocket into outer space, float around in weightlessness, walk on the moon and more. The fun we will have with movement, expression, imagination and laughter, is truly "out of this world!"
Inner Space: Time to Space-Out A workshop on the power of down time. The art of doing nothing. In this fast paced multitasking world it easy to want to fill every moment. Robert shares the importance of setting time aside to do nothing. Call it what you will, space-out time, do-nothing time, unplugged time or nap time . . . it is extremely valuable. Non-doing time can help you clear your mind, reflect on what you have learned, see life from a new angle, be more creative and relieve stress.
Mindfulness in Motion with Robert Rivest: Many schools and organizations are incorporating mindfulness as a way to help students and staff, focus, feel centered, and improve social skills. Robert Rivest's "Mindfulness in Motion" school and library programs help teach the basics of mindfulness in a fun, entertaining way. In this program, students and teachers learn mindfulness exercises and stress relief techniques that will help them breathe, relax, focus, act, and interact, mindfully. Robert is a great presenter, he shares simple, memorable stories and humorous tales that bring mindfulness principles to life. Robert Rivest has been teaching Mindfulness Meditation, Tai-Chi, and Mime, to all ages, for over 20 years. With his unique blend of energy, creativity, playfulness and peacefulness, Robert shares the joys of being alive, in the present moment.
Robert Rivest Comic Mime ("Laughter is the Best Medicine") Highlights the best of Robert Rivest's 20 year career as a master mime performer, comic actor and improv artist. Through humorous mime stories, spoken word physical comedy and a zany cast of characters, Robert Rivest transforms an empty stage into pure hilarity! His true gift is his ability to turn everyday situations into hysterically funny experiences that adults & seniors can relate to! Robert's personal stories of growing up in Enfield, CT, are hilarious. His tales of childhood, teen-hood and high school pranks as well as his life in the performing arts and "healing arts" will move you to bursts of laughter and tears of joy! This is a cultural arts comedy event that you will never forget, full of imagery rich stories, awe inspiring mime illusion, and plenty of playful audience participation.
A fun way to bring the whole community together through smiles, giggles, and roaring laughter.
"If you can only book one performer, make it Robert Rivest! His mime show was awesome. The audience loved him and completely enjoyed the interaction. Even the most shy were motivated to participate by his genuinely warm and friendly approach. We would have him back again in a heartbeat." -Wendy Payette, East Brookfield Public Library, MA "I love programs that entertain parents as much as they do children, and Robert Rivest's show definitely accomplished that goal. His unique mixture of mime and comedy along with a strong pro-library message, completely engaged our diverse audience." -Patty Falconer, Hampstead Public Library, NH
The Alphabet of Imagination! Robert joyfully leads audiences of all ages on an awesome A to Z journey! This fun, festive, high energy show is an amazing synthesis of movement, imagery, characters and illusion. With a different mime piece for each letter of the alphabet, Robert Rivest highlights the pure joy of our limitless imaginations. "We were so delighted with Robert Rivest's performance. It's wonderful to find someone with such tremendous talent who relates so well to kids." -Jane Babcock, Director, Hadley Libraries, MA
Literacy Alive - Let's Celebrate Reading! is a quick moving fun-filled enrichment program that gets audiences of all ages excited about reading. Robert Rivest reveals the "hidden treasures" of reading and comically illustrates and the joys of reading everyday. More
Healthy Choices - Healthy Lives is a high-energy comedy program in which health and humor go hand in hand. Robert Rivest's humorous insights connect deeply with children, teens, and adults moving them to make mindful choices about food, exercise, entertainment and safety. More
Learn, Laugh, and Let Go: Interactive Stress Relief Show! Robert Rivest takes a humorous look at modern day stress and what we can do about it. Using mime, comedy, insight, and interaction Robert offers both "comic relief" and practical stress relieving techniques. With Robert's down-to-earth sense of humor and engaging style, audiences find stress reduction natural and easy. His closing interactive series of movement and laughter helps everyone get back to work, school, or home feeling calm and refreshed.
How we handle stress affects every part of our lives!
"Our audience for 'Learn, Laugh, & Let Go' was transformed from a stressed out group to a laughing, merry band by the end of Robert Rivest's workshop. He seamlessly blends comedy, mime routines, and practical insights in a fun way that ordinary folks unused to relaxation techniques can easily understand and apply to their own lives." Kirk G. Morrison, MLIS, Adult Programming Librarian, Whittemore Memorial Library, CT "It was an absolute delight to have Robert Rivest perform here at the Gilmanton Year Round Library! We giggled ourselves silly!" - Pam Jansury, Gilmanton Year Round Library, NY "I worked in the wellness industry for 15 years. I not only gave many wellness-based presentations but attended numerous ones. What I found so wonderful about Robert Rivest's program is that it is so easy to take away the idea of smiling and laughing as a strategy for dealing with stress and a means for improving your overall health." - Carla Grimaldi, MSEd. Read/Write/Now Adult Learning Center
Robert Rivest's Science in Motion! Great for libraries that are helping their local schools with core science progams! "Science in Motion" is an explosive blend of comedy and science that enthralls both children and adults. Through an exciting use of mime, comedy, audience participation and informative science tie-ins, Robert Rivest inspires his audience to see science in a new light. Everyone gets to actively participate! From being part of a giant audience water cycle to trying out comic characters in Robert's hilarious science skits, it's pure fun for all. Science at Play! Audiences get to experience science kinetically! Robert's Interactive Science Stories include: Walls, walls, walls: Solid, Liquid, Gas A Rain Drop Journey: Water Cycle Life on Earth: Climate Change Get Moving: Gravity, Inertia Planting Seeds: Photosynthesis Baby Bird: Eggs, Habitat, Flight Push, Pull, Lift: Simple Machines The Aquarium: Sea life, Float, Sink Umbrella Piece: Wind, Weather Caterpillar/Butterfly: Metamorphosis
Character and Comedy Workshop Master mime artist and comic actor Robert Rivest explores character, comedy and expression in this fascinating interactive program. Robert Rivest uses his famous comic mime stories and improv scenes as a fun way for participants to look at what lies beneath the surface in different written characters, and the "characters" around us, including ourselves. The program includes a mini 'hands-on' theater workshop in communication, subtext, facial expression and body language! Everyone love Robert's true to life characters, awesome illusionary skills and his playful, down-to-earth sense of humor."If you want a program that is interactive and a lot of fun then Robert Rivest's Mime Workshop is the program for you. The participants were laughing and imitating what Robert was doing. Teens were shown how to do mime and they had a blast." -Margie Walker, Teen Librarian, Amesbury Public Library
More Shows for All Ages!
Teen Programs
Staff Development
A Fun Comic Mime Show! Rivest Library Show on TV!
Stress Relief Workshop! Laughter Yoga with Adults
" ...definitely hire him! He is easy to work with, and he is an impressive performer. Both the children and adults who came to his show at our library were laughing throughout his hour-long performance." Marissa Ciullo, Children's Librarian, Oxford Public Library, CT
"His energy is contagious, and I find fairly reticent kids eager to mime the mime, and we all get to learn some moves. We'll have him back again...He's always a hit. Amy Gavalis, Children's Librarian, Lincoln Public Library, Lincoln, MA
"I highly recommend Robert Rivest! I wish he could take over classes for a day, inspire some kids to get fit and learn to use their bodies in new ways and laugh a little more." Teen Advisor, Lunenberg Public Library, MA
" Extremely gifted . . . Mr. Rivest's show was a huge success based on the feedback of patrons and staff of all ages! We loved reading was promoted! Laurie Meheran, Burlington Public Library, CT
"Very entertaining and inspiring! He held the adults' and children's attention well. It was the most successful show our library hosted and, without a doubt,, the show most able to bridge the generation gap." Mary Farrell, Children's Librarian, George Homes Bixby Memorial Library, Francestown, NH
Literacy Alive Show! Science in Motion!
"We enjoyed your visit immensely. The way you interacted with the kids, and made sure any who wanted to participate got to participate, was especially appreciated. Also, the way you incorporated stories into the mime performance was very unique . . . You had the kids (and adults!) attention the entire time." Becky Manahan, St. Albans Free Library, VT
"The kids - and adults - who attended Robert's show were completely mesmerized by his performance. . . There were kids as young as three up on stage with tweens and teens, and everyone had a great time . . . A mom who was sitting next to me during Robert's performance turned to me at one point and said, "He's AMAZING!! Wow!!" Abby Kingsbury, Harvard Public Library, MA
"The audience was quite captivated by Robert's mime activities! Robert was extremely professional and the children and adults were mesmerized by his performance!" Laura Sidoti, Greece Public Library, NY
Summer Library Program BLOCK BOOKING is Available in MA, CT, NY, NH, NJ, PA, VT and ME!
Contact Robert: Email: Robert Rivest Phone: Phone: 413-519-2256
New! Now you can learn directly from Robert Live Online!
More Shows for All Ages!
Teen Programs
Staff Development
-Back to top-