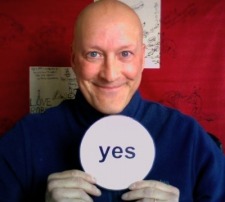 Laughter Yoga TEACHER TRAINING w/ Robert Rivest
Prerequisite: You must be a Certified Laughter Yoga LEADER (2 Day Training) in order to take the 5 Day Laughter Yoga Teacher Training. That is, if you want to be a Certified Laughter Yoga Teacher. 2 Day Laughter Yoga Leader Training info: https://www.robertrivest.com/laughteryoga/lytrainingsandoffe/
Next Zoom Two Day Laughter Yoga Leader Training Certification Online!
Dates: October 3-4, 2020
Times: 9am-5pm ET USA
On Zoom!
Fee: $300
Email Robert to Register & Pay Online rivestnow@gmail.com
______________________
Robert Rivest also offers a
Saturday Series of Zoom Classes
1. "Robert's Warm-up" classes are the 1st Saturday of each Month. Robert has created a warm-up to help prepare the body and mind for a class or presentation. You will learn the warm-up sequence and inner workings of each exercise as well as how to adapt it for a wide variety of settings, situations and circumstances. It is a beautiful mind-body practice.
2. "Mime & Laughter Yoga" classess are the 2nd Saturday of each Month. One of the reasons Robert Rivest has become such a popular master trainer around the world, is his mime artistry. Here is your opportunity to learn mime illusions, facial expression, body awareness, comic timing and wordless acting for laughter yoga. A fun way to enhance your practice, teaching and presentation.
3. "Joy Workshop" is the 3rd Saturday of each Month. Learn how to bring more joy into your life. This workshop is a wonderful combination of mindfulness, laughter, qigong, mime, dance and improv. We seamlessly flow from one "joy experience" to another. The essence of Robert Rivest's Method of Joyful Living.
4."Qigong & Laughter Yoga" classes are the 4th Saturday of each Month. Many of the flowing movements and deep breathing exercises that you see in Robert's videos have been adapted from Qigong & Tai Chi. Here is your chance to learn how to include them in your daily practice and teaching.
Robert Rivest's Saturday Series Details
Time: 2pm ET USA/Canada
Length: One Hour
Fee:$20 USD per person, per class.
Register & Pay: Email Robert: rivestnow@gmail.com
All classes have a Question & Answer session at the end. Robert feels some of his most valuable teaching, happens in the Q&A segment.
__________________________
Robert Rivest's 5 Day Laughter Yoga Teacher Training is a wonderful way for Laughter Yoga professionals to deepen their laughter practice, learn new skills and connect with a great group of laughers for 5 fabulously fun days! Robert Rivest is a world renowned Laughter Yoga Master Trainer known for his joyous spirit, infectious laughter, mindful wisdom, and his compassionate style of teaching.
What you will get from Robert Rivest's Laughter Yoga Teacher Training:
After completing this training, YOU will be a Certified Laughter Yoga Teacher, Certified by Robert Rivest and the Laughter Yoga International Universty!
You will be authorized to train and cerify Laughter Yoga Leaders!
You will learn how to lead 2 day Laughter Yoga Leader Trainings and how to market them.
You will be trained to conduct Laughter Yoga Seminars and Workshops for corporations, companies, hospitals, senior centers, prisons, children with special needs, Laughter among school children and more.
You will learn how to do Laughter Yoga and pranayama as a personal practice for your own mind-body health.
You will learn organization skills, marketing and advertising skills, leadership skills, communication skills and How to start Laughter Clubs.
You will receive a training manual, Dr Kataria's e-book "Laugh For No Reason", a resource pack DVD and CD which will contain International news coverage video clips, Laughter Yoga in corporations, Laughter Yoga in schools.
You will learn the latest scientific research on laughter and Laughter Yoga.
Plus, you will get 1 year free access to Prozone (www.laughteryoga.org/prozone).
Already a Certified Laughter Yoga Teacher? Come and enjoy Robert's unique way of generating energy, love, laughter, and joy. Learn new laughter skills, breathing techniques, songs and games. Learn how to improve upon your personal Laughter Yoga practice and professional career. Robert is very creative at helping people realize their potential.
Or, simply come and enjoy the week as a wonderful laughter retreat. A 5 day laughter retreat that helps you cultivate and share more peace, love, laughter and joy, in your life, and out in the world.
"After being inspired by many of Robert's free online Laughter Yoga videos, I took the opportunity to travel from Sydney, Australia, to Long Island, New York, in January 2017 to attend Robert's five-day Laughter Yoga Teacher training. It was fantastic! Robert is as genuine, entertaining, and knowledgeable as he is in his videos. I loved his amazing mime presentations which he incorporated within the training and his teaching method is truly unique. Robert is full of energy, encouragement, and kindness. I highly recommend you do the Laughter Yoga Leader or Teacher training with Robert, or book him for your next community group, workplace, or corporate wellbeing event. It will be educational, uplifting, and great fun!"
- Sharon Gambrill, Comedy Actor, Writer, Laughter Yoga Teacher, EFT, Reiki, Heal Your Life® Workshops & Coaching
5 Day Laughter Yoga Teacher Training
Fee: $995
New! Now you can learn directly from Robert Live Online!
Robert Rivest is an internationally admired Laughter Yoga Teacher and Certified Laughter Yoga Master Trainer. He is a renowned comic mime artist, an accomplished health, literacy and stress relief educator, and an engaging public speaker. Robert's teaching style is influenced by a 25 year practice of Mindfulness Meditation, Tai-Chi and Qigong. Since 1985, he has given over 8,000 presentations in Europe, Asia, Africa and across the U.S. His keynotes, trainings, retreats, and "Laugh- Along" YouTube videos have helped thousands of people around the world feel healthier and happier.
Robert is dedicated to sharing peace, love, laughter and joy around the world. His programs bring health, levity and stress relief to people of all ages, backgrounds and sensibilities! Robert Rivest's Laughter Yoga Teacher & Leader Trainings are fun, informative and inspiring. Laugh with him in the U.S.A or bring him to your country!
Services Offered: Certified Laughter Yoga Teacher Trainings & Certified Laughter Yoga Leader Trainings, Motivational Keynotes, Corporate Wellness Programs, Staff Stress Relief programs, School Programs, College Programs, Public Awareness Seminars, Mindful Living & Laughter Retreats, One on One Coaching, Laughter Fitness Training for Athletes, Artists & Performing Artists, Laughter & Health Programs for Seniors/Hospitals/Clinics/Support Groups . . . and more.
Please Contact Robert: Email: ROBERT RIVEST Phone: 413-519-2256 for more info on
Laughter Yoga Teacher Trainings, Laughter Yoga Leader Trainings and Fun Laughter Events.