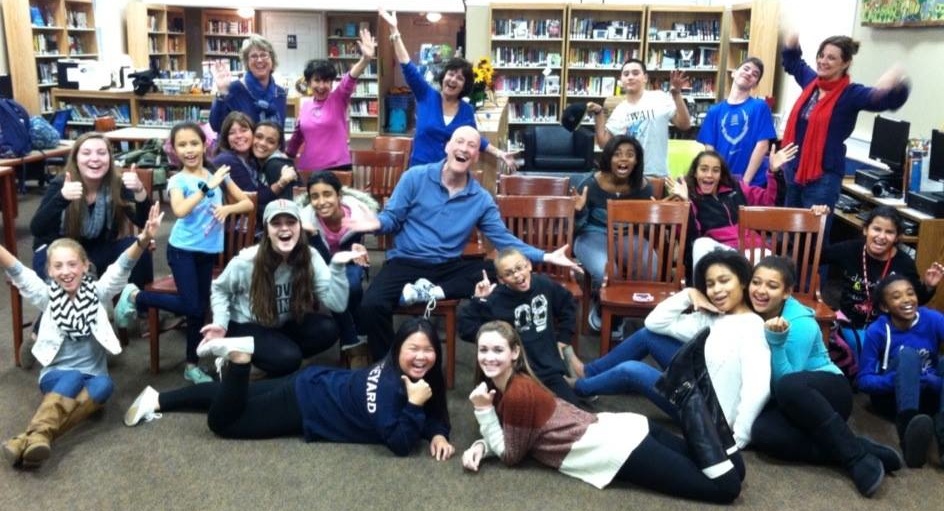 Teen Library Programs
Character and Comedy for Teens Master mime artist and comic actor Robert Rivest explores character, comedy and expression in this fascinating interactive teen program. Robert Rivest uses his famous comic mime stories and improv scenes as a fun way for teens to look at what lies beneath the surface in different written characters, and the "characters" around us, including ourselves. The program includes a mini 'hands-on' theater workshop in communication, subtext, facial expression and body language! Teens love Robert's true to life characters, awesome illusionary skills and his playful, down-to-earth sense of humor.
Laughter is the Best Medicine: Highlights the best of Robert Rivest's 20 year career as a master mime performer, comic actor, improv artist and laughter/stress relief expert. Through humorous mime stories, spoken word physical comedy and a zany cast of characters, Robert Rivest transforms an empty stage into pure hilarity! His true gift is his ability to turn everyday situations into hysterically funny experiences that teens can relate to! Robert's personal stories of growing up in Enfield, CT, are hilarious. His tales of childhood, teen-hood and high school pranks as well as his life in the performing arts and "healing arts" will move you to bursts of laughter and tears of joy! This is a cultural arts comedy event that you will never forget, full of imagery rich stories, awe inspiring mime illusion, and plenty of playful audience participation.
Robert Rivest has a number of shows for schools and libraries including one for this years 2018 Summer Reading Theme: Music: Reading Rocks! Libraries Rock!
Let's Rock this Library with Laughter! Comic mime Robert Rivest entertains audiences of all ages while joyfully motivating them to read, celebrate their libraries and move to the music of nature, animals and life all around us. Using mime, comedy, and interactive playfulness, Robert Rivest highlights the musicality of every day life. He shares mindful ways that we can tune into our environment, and play with the sounds of the natural world. Robert is an enthusiastic conductor of laughter and joy, bringing sensational stories and silent symphonies to life before your eyes! In addition to Robert's humorous and inspirational mime stories, everyone will learn cool mime movements, awesome laughter exercises and calming mindfulness activities. We end with an interactive mime "poem" about the joys of reading, books and libraries. Robert Rivest is a comic mime/dancer/speaker with over 20 years of experience performing in schools and libraries.
or just for the fun of it . . .
Summer Fun @ Your Library! This is a pure celebration of everything that we love about summer. Comic mime Robert Rivest performs his favorite stories about summer and invites audience members to join in. Stories about the sun, swimming, camping, travel, friendship, ice cream, late nights, lightening bugs and more! This fun family show is full of audience participation! In addition to Robert's humorous and inspirational mime theater stories, everyone will learn cool mime illusions and how to create their own mime story. Together, we will act out exciting characters and stories highlighting summer fun! Robert Rivest studied mime, dance, improvisation and acting in Paris and NYC. He brings over 20 joy filled years of experience to every performance.
"If you want a program that is interactive and a lot of fun then Robert Rivest's Teen Mime Program is the program for you. The participants were laughing and imitating what Robert was doing. Teens were shown how to do mime and they had a blast."
-Margie Walker, Teen Librarian, Amesbury Public Library
"We were thrilled to host "Comedy on the Move"; everyone had a fantastic time and I've had several people ask when he'll be back! Robert Rivest is a talented and engaging mime, storyteller, and physical comedian who will captivate audiences of all ages. His interaction with the attendees elevates an already outstanding performance to a true event for all!"
-Francie Berger, Reference Librarian/Programming Coordinator Hall Memorial Library, Ellington, CT
Summer Library Program BLOCK BOOKING is Available in MA, CT, NY, NH, NJ, PA, MD, VT and ME!
Contact Robert: Email: Robert Rivest Phone: 413-519-2256
Library Staff Development Stress Relief Programs
Library Programs For All Ages!
Teen & Young Adult Library Programs
Comic Stress Relief Library Programs for Adults & Seniors
Robert Rivest K-12 School Shows
Health & Wellness School Assemblies
Literacy Programs & Reading Celebrations
Laughter Yoga & Stress Relief School Shows
"Comedy on the Move" School Shows
Spread joy and laughter @ your library with Comic Mime Robert Rivest
Robert Rivest Shows for All Ages