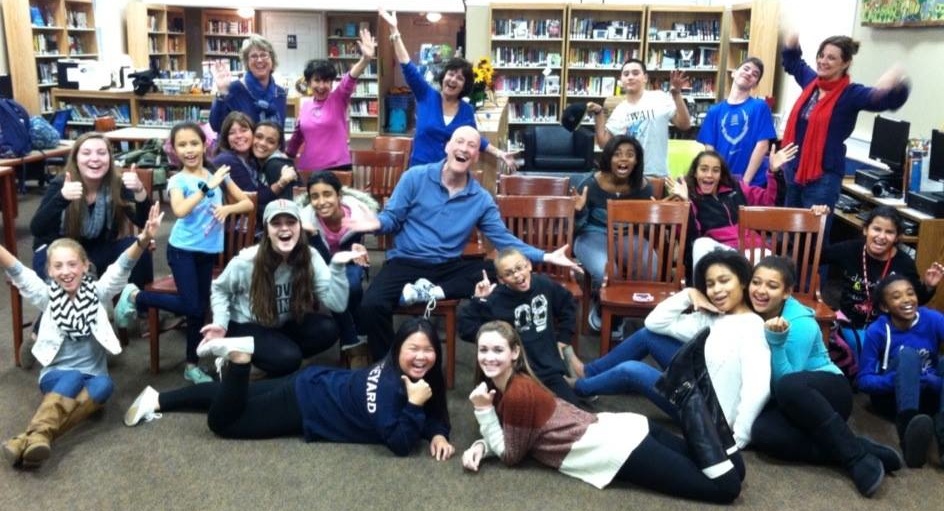 Teen Library Programs
2021-2022 School Year - Live & Online Libary Program Options!
Flexibility is key. I can do any of my programs:
Live-In-Person
Virtual Live Stream
Virtual Recorded Video
I am open to other options as they become available.
Let's chat today!
Character and Comedy for Teens Master mime artist and comic actor Robert Rivest explores character, comedy and expression in this fascinating interactive teen program. Robert Rivest uses his famous comic mime stories and improv scenes as a fun way for teens to look at what lies beneath the surface in different written characters, and the "characters" around us, including ourselves. The program includes a mini 'hands-on' theater workshop in communication, subtext, facial expression and body language! Teens love Robert's true to life characters, awesome illusionary skills and his playful, down-to-earth sense of humor.
Laughter is the Best Medicine: Highlights the best of Robert Rivest's 20 year career as a master mime performer, comic actor, improv artist and laughter/stress relief expert. Through humorous mime stories, spoken word physical comedy and a zany cast of characters, Robert Rivest transforms an empty stage into pure hilarity! His true gift is his ability to turn everyday situations into hysterically funny experiences that teens can relate to! Robert's personal stories of growing up in Enfield, CT, are hilarious. His tales of childhood, teen-hood and high school pranks as well as his life in the performing arts and "healing arts" will move you to bursts of laughter and tears of joy! This is a cultural arts comedy event that you will never forget, full of imagery rich stories, awe inspiring mime illusion, and plenty of playful audience participation.
Librarian and Library Staff, Stress Relief Robert Rivest offers creative stress relief workshops, in-services and staff development training for librarians and staff! His most popular staff development program for libraries is part comic relief and part stress relief tips from mindfulness meditation, tai-chi and laughter yoga. The laughter and improv team building exercises are tons of fun! The take away stress relief tips are very effective for work in the library and every day life. It can be a great stress reliever for the whole population, a library conference keynote, worksop, breakout session or a special staff workshop/in-service/training.
2022 Summer Reading Library Themes:
Oceans of Possibilities & Read Beyond the Beaten Path
Miming Oceans of Possibilities Robert Rivest is a Comic Mime. He sees the world in a very funny way. He is known as the 'human cartoon' because of his highly expressive face and flexible body. Using mime, comedy, and interactive stories, Robert brings original Ocean Themed stories to life before your eyes! He combines classic mime artistry with hilarious character voices and humorous insights into the oceans of positive possibilities in everyday life. Can you imagine your ocean story brought to life? In several audience participation opportunities, we will have fun improvising your story ideas. First, everyone will learn cool mime illusions! Then, we will act out the stories we create together on the spot! The joy we'll experience with movement, expression, creativity and laughter, is truly, beyond imagination.
Mime Outside the Box & Read Beyond the Beaten Path: Humorous adventures in camp, hiking, sports, performing arts and skill development. Can be a fun show by itself or part of a specific theme within the "Read Beyond the Beaten Path" Like Robert's "Science in Motion" Comic Mime Show for Science, Nature or Space Stem Events.
Summer Fun @ Your Library! This is a pure celebration of everything that we love about summer. Comic mime Robert Rivest performs his favorite stories about summer and invites audience members to join in. Stories about the sun, swimming, camping, travel, friendship, ice cream, late nights, lightening bugs and more! This fun family show is full of audience participation! In addition to Robert's humorous and inspirational mime theater stories, everyone will learn amazing mime illusions and how to create their own mime story. Together, we will act out exciting characters and stories highlighting summer fun!
"We were so delighted with Robert Rivest's performance. It's wonderful to find someone with such tremendous talent who relates so well to kids."
-Jane Babcock, Director, Hadley Libraries, MA
"If you can only book one performer, make it Robert Rivest! His mime show was awesome. The audience loved him and completely enjoyed the interaction. Even the most shy were motivated to participate by his genuinely warm and friendly approach. We would have him back again in a heartbeat."
-Wendy Payette, East Brookfield Public Library, MA
Happy Halloween Tricks and Treats: In this fun, interactive program, Comic Mime Robert Rivest will take us through a series of spooky yet silly Halloween stories. We will also learn how to do some mime tricks and treat our friends to funny mime illusions and hilarious Halloween characters. Come in costume, Robert will use his mastery of mime and movement to help us move and act like our costume characters. Also bring some ideas and suggestions, as we will create our own spooky story together, on the spot!
Holiday Library Programs and Special Events: Is there a program you would like Robert Rivest to create for an upcoming holiday or special event? Robert is super creative, he brings his joyful spirit and humorous take on life, to any given situation. Contact him today and see what fun, shared experience he can create for your library.
Summer Library Program BLOCK BOOKING is Available in MA, CT, NY, NH, NJ, PA, MD, VT and ME!
Contact Robert: Email: Robert Rivest Phone: Phone: 413-519-2256
New! Now you can learn directly from Robert Live Online!
2021-2022 School Year - Live & Online Libary Program Options!
Flexibility is key. I can do any of my programs:
Live-In-Person
Virtual Live Stream
Virtual Recorded Video
I am open to other options as they become available.
Let's chat today!
Contact Robert: Email: Robert Rivest Phone: 413-519-2256
Library Staff Development Stress Relief Programs
Library Programs For All Ages!
Teen & Young Adult Library Programs
Comic Stress Relief Library Programs for Adults & Seniors
Robert Rivest K-12 School Shows
Health & Wellness School Assemblies
Literacy Programs & Reading Celebrations
Laughter Yoga & Stress Relief School Shows
"Comedy on the Move" School Shows
Spread joy and laughter @ your library with Comic Mime Robert Rivest
Robert Rivest Shows for All Ages