Stress Management and Laughter Exercise Programs!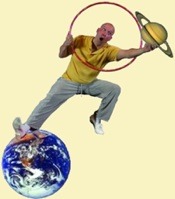 Learn, Laugh, and Let Go: Interactive Stress Relief Show! Robert Rivest takes a humorous look at modern day stress and what we can do about it. Using mime, comedy, insight, and interaction Robert offers both "comic relief" and practical stress relieving techniques. With Robert's down-to-earth sense of humor and engaging style, audiences find stress reduction natural and easy. His closing interactive series of movement and laughter helps everyone get back to work, school, or home feeling calm and refreshed.
How we handle stress affects every part of our lives!
Comic Relief Story &nbsp Stress Management Tips
2021-2022 Live & Online School Programs!
Flexibility is key. Robert can do any of his programs:
Live-In-Person
Virtual Live Stream
Virtual Recorded Video
Robert is open to other options as they become available.
Let's chat today!
"Robert's Stress Relief show was simple, effective, and different. I enjoyed seeing the impact on both audiences. The roars of laughter and full participation was great."
PTO Arts Coordinator, Woodville Elementary School, Wakefield, MA
"Your performance was exceptional! I know everyone who participated felt at peace and yet rejuvenated and reconnected! Thanks so much for coming!"
Maria Sulivan, The Graduate Institute
Laughter Yoga for Wellness Show!
A fun new interactive program! Robert Rivest activates audience members with laughter exercises, breathing techniques, and a playful laugh-along series of mime games. Audiences of all ages quickly learn that mime & laughter yoga are fun ways to exercise and relieve stress. Robert Rivest's Laughter Yoga for wellness is perfect for relieving tension (before or after tests or major events). It is also a fantastic way of uniting everyone in laughter at the beginning of the year, mid year social events, or as a fun, festive, end of the year celebration!
Laughter Yoga is a fun way to exercise, socialize and relieve tension. Laughter is healing.
"This is the best day of my life!" " I like the mime laughter exercises." "The relaxation was my favorite part." "Clapping, laughing and playing was fun!" "I feel like I just ran a mile and took a nap!" "I feel relaxed and happy!"
Students' comments after Robert's Laughter Yoga Assembly at Chaffee Elementary school, MA
Laughter Yoga in Schools &nbsp Laughter Yoga & Mime intro
What is "THE SCIENCE OF LAUGHTER"? In addition enjoying a good healthy laugh, everyone will learn fun facts on how laughter boosts the immune system, increases oxygen intake, releases "feel good" endorphins and serotonin, reduces blood pressure, and relieves stress.
For both the Stress Relief show and the Laughter Yoga show: Adult and family presentations are 45-60 minutes in length (audience limit negotiable).
School shows are 45 minutes and often work best with 175-225 students (or less).
Staff development programs also available.
Robert Rivest 413-519-2256
REVIEWS
"Robert Rivest is extremely talented and easily engaged the audience. The artistic quality was outstanding! The educational value was surprisingly effective because the children were so entertained. I loved the magical way he created illusions to send powerful messages to the children. The teacher's fully enjoyed the show also." Chris Oneschuck, PTO Green Wood Elementary School, Wakefield, MA
"Wonderful... Everyone enjoyed it... an outstanding performance! Robert did a fantastic job and received a great deal of respect from the audience. Everyone loved it, not only the students, but the teachers as well." Wood Ridge High School, NJ
"Everyone had a wonderful time de-stressing. It was great to see the reactions of the children and staff. The whole school was able to laugh together and learn how to relieve stress." Mrs. Patten, Parent Liaison, Tower St. School
"We all loved the calming effect of the presentation. Robert sent a strong, clear, and appropriate message to our students. He helped them slow down, focus on the present, and breathe. It was a perfect fit to the high energy portions of our day." Lana Russ, Health Educator, Woodhill Middle School, Andover, MA
"Excellent across the board! Robert's stress relief show was amazing; teachers and students reacted to Robert and his material with great enthusiasm." Teachers Comments from Ardsley Middle School, NY
"Everyone truly enjoyed your wonderful performance. We hope you will be able to perform at future Health Conferences." Diane Kowal, RN
"Stress Management was a blast. Please come back next year! I learned how to deal with stress in a whole new way. I loved your show! It really was fun! Your stress management show was not only informative, it was fun to watch." Students comments, Flat River Middle School, RI
"I feel Happy", "I have energy", "I just keep smiling, I really like this!" "I feel very relaxed" Students comments, Lansgurg Elem, NY
""What a gift it was to see the group laugh and be playful. I think everyone got something out of the evening and I hope to incorporate more mindfulness activities into our meetings." -Sara W., Care Givers Group "
EVERYONE loved your presentation! Rave reviews here all around! We loved the message, the delivery- all of it. We are also very impressed with your talent (and your training!) " Barbara Schult, Dunbarton Elementary School, NH
"The residents loved it! I would reccomed this to ALL of you out there, it doesn't matter how young or how old, how active or non-active you are, it can and is adapted to all! - Laugh a little, you'll be happy you did!!! " Carolyn Prentice Bacon, Therapeutic Recreation Specialist Wethersfield Health Care Center
Robert also offers workshops designed for schools, hospitals, wellness centers, and yoga studios:
Attention Program Directors: Robert can include themes, slogans, or topics you would like highlighted in the show. You can be as specific as you like. Robert customizes programs for each grade pre-K through 12, as well as adult and family audiences.
Robert Rivest's Laughter Programs have material variations for:
Lower Elementary School Assembly Programs
Upper Elementary School Assembly Programs
Intermediate School Assembly Programs
Middle School Shows Junior High School Shows
High School Shows Family Night Programs
College Keynotes Business Keynotes Adult and Senior Citizen Programs
Robert Rivest
413-519-2256
Back to top